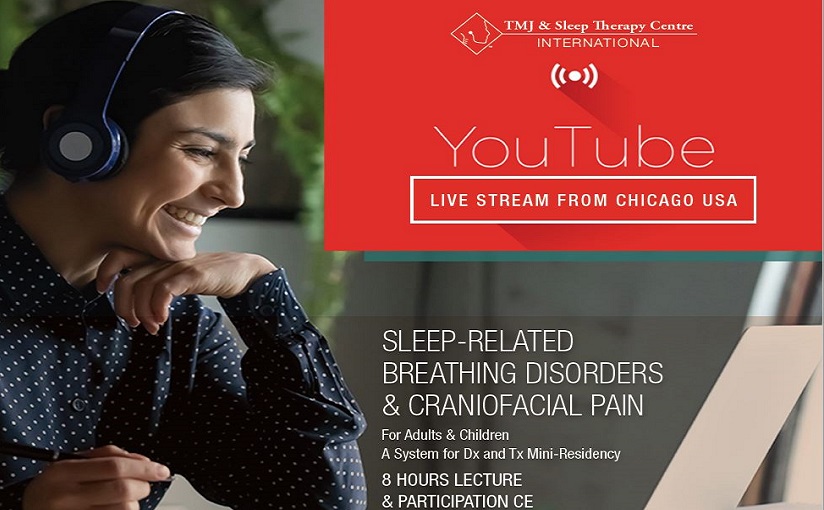 2021 Spring TMJ & Sleep Therapy Centre Mini Residency
Course directed by International Educator Steven Olmos DDS
Sleep-Related Breathing Disorders & Craniofacial Pain
For adults & children
A System for Dx and Tx Mini-Residency
8 Hours Lecture & Participation CE
For the first time ever, the 2021 Spring TMJ & Sleep Therapy Centre Mini Residency will be streamed LIVE
on You Tube. This will be available only to International attendees at a reduced rate. You will still receive all
manuals and course paperwork via a dropbox link. You will be able to ask questions during the
meeting and connect with other attendees in a Facebook Group.
Session 1 | April 23 – 24 2021
Live Stream on YouTube
Once your registration is processed you will receive a unique log in link to view the stream
Doctors will learn;
Screening SBD, Sleep Disordered Breathing, OSA, Craniofacial Pain
How to Find CR
Imaging: CBCT, MRI Interpretation (Your Cases)
Electrodiagnostics: JVA
Motor Nerve Reflex Evaluation (Neural & Orthopedic Screening)
Anatomy Head and Neck
Airway and TMJ Neuroanatomy
Diagnosis and Treatment Planning
Session 2 | May 14 – 15 2021
Live Stream on YouTube
Once your registration is processed you will receive a unique log in link to view the stream
Doctors will learn;
Sleep Disorders – Sleep Disorders
Triage of SleepAppliance Therapy
Headaches
Recapturing Discs
Orthotic Design & Indications
Pharmacology
Session 3 | June 11 – 12 2021
Live Stream on YouTube
Once your registration is processed you will receive a unique log in link to view the stream
Doctors will learn;
Sleep Disorders that Cause TMJ Pain
Neuropathic Disorders
Typical and Atypical Neuralgias
Musculoskeletal Pain
Physical Medicine Modalities
Orthodontic/Orthopedic, Removable and fixed prosthodontics treatment for facial/jaw pain and breathing disorders
Nutrition
Paediatric OSA (Treatment Options)
Myofunctional Therapies and Myobrace