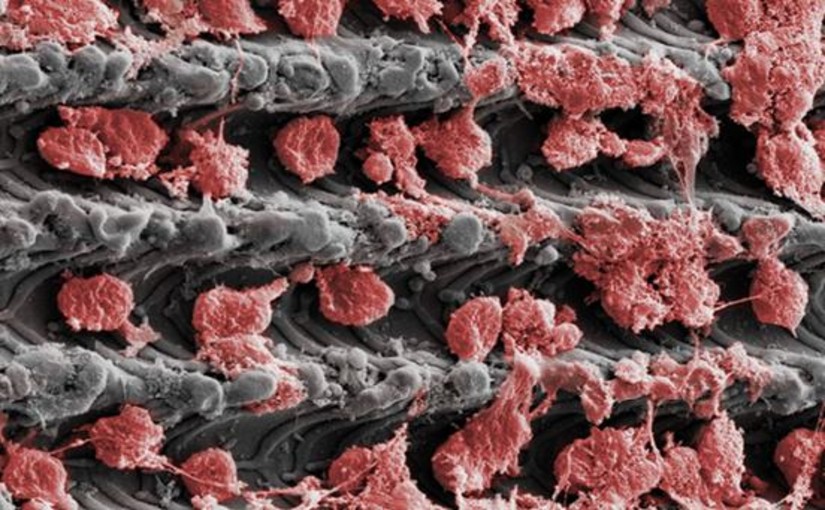 BioHorizons Laser-Lok Micro-channels in Implant Healing
Case Study
A 53-year-old female patient was referred for a periodontal consult to address the maxillary first molar which had a hopeless restorative prognosis. The patient had recently experienced discomfort and buccal swelling. It had been suggested by her referring dentist that the tooth could not be saved based on the clinical and radiographic findings as well treatment history. The tooth had been root canal treated over 15 years ago. Over this time, it still caused the patient occasional mild to moderate discomfort on occlusion. This time, the discomfort had become persistent and the patient sought emergency care.
Treatment
Following periodontal re-evaluation confirming gingival health and adequate patient compliance, the extraction of 16 with alveolar ridge preservation was scheduled. The roots of the 16 were sectioned and removed. The socket was preserved using a xenograft. Careful elevation of the facial and palatal mucosa was performed in order to create a pouch that would stabilise a collagen membrane. After 20 weeks of healing, the gingiva was of mature aspect with no signs of infection. The patient returned for planned surgical placement of a suitable 4.6 × 10.5mm BioHorizons Tapered Internal dental implant with a Laser-Lok collar, and the assistance of a fabricated restorative-driven surgical template for surgical placing. In view of the adequate amount of keratinised mucosa and excellent primary stability, a non-submerged surgical approach was selected (Figure 1 and 2).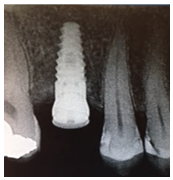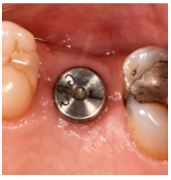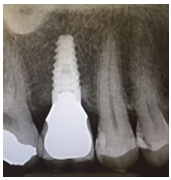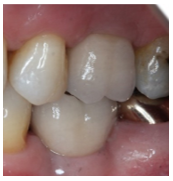 From Left to right; 1. Radiograph of placed implant with healing abutment. 2. Photograph of healed gingiva 10-weeks post-op. 3. Radiograph 1-year post-op. 4. Photograph 1-year post op of restored implant.
Patient presented 10-weeks after the implant placement, proper osseointegration was confirmed and the fixture was restored by a specialist Prosthodontist. At the 1-year supportive periodontal appointment, a diagnosis of healthy peri-implant tissues was confirmed (Figure 3 and 4).
DISCUSSION
The maintenance of stable soft and hard peri-implant tissues is considered a key factor for long term implant stability and success. The design of the implant crestal collar can minimize excessive peri-implant tissue remodeling. The micro-channels of Laser-Lok is one of the most innovative and strongly scientific-supported systems. Laser-Lok technology is achieved by micro texturing the implant collar and abutment surface with parallel 8-12µm micro-channels. The Laser Lok microchannels improve cell migration and behavior by selectively impeding or facilitating specific cell lineages and creating the conditions for enhanced stable and firm peri-implant tissues.
Studies show that the junctional epithelium terminated more coronally in the laser micro-channeled zone compared to a traditional machined, smooth collar surface. Further histological evidence reported a perpendicular functional orientation of the collagen fibers. In contrast, parallel non-functional fibers are normally seen in peri-implant tissues and is more like periodontal tissues located around natural teeth.
As a result of these histological features, the peri-implant biological width establishes in a more coronal position, resulting in reduced crestal bone remodeling, reduced peri-implant probing depths and a favorable peri-implant microbiological profile as shown in many clinical studies,  including the one published by our research group in 2016 on the International Journal of Oral Maxillofacial Implants in 2016 (Guarnieri et al. 2016).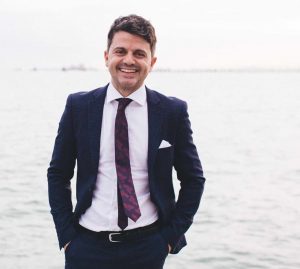 Professor Alessandro (Alex) Quaranta
DDS (Hons), Ph.D., Spec. Dent. (Italy)
Professor of Dentistry (ASN MIUR Italy).
Smile Specialist Suite, Newcastle, NSW
Professor Alessandro Quaranta is Senior Clinical Specialist at the   Department of Periodontics of the Sydney Dental Hospital/University of Sydney and the Chief Clinical Consultant and Scientific Education Coordinator at the Smile Specialist Suite, Newcastle NSW. In 2019, he has been awarded the National Scientific Qualification  (ASN) from the Ministry of Education, University and Research (MIUR) which is the highest Italian academic qualification and qualifies for a Full Professorship.