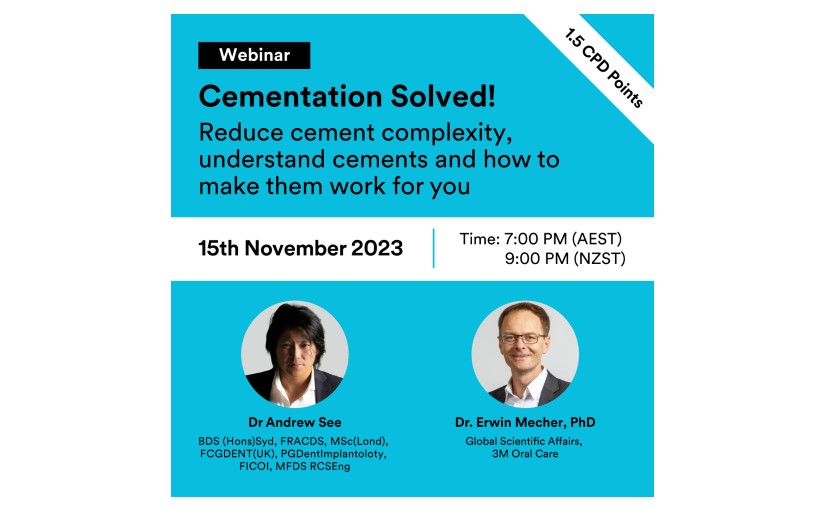 Cementation Solved! Reduce cement complexity, understand cements and how to make them work for you.
Presented by Dr. Andrew See and Dr. Erwin Mecher
On Demand Webinar!
Duration: 1 hour 30 minutes
CPD: 1.5 points
Description
With the more recent introduction of new, advanced cementation and adhesive materials, there still remains some confusion on the appropriate cementation techniques and relevant product options to suit. It's enough to confuse any modern-day clinician.
There are numerous steps on that journey to restoration success and the before and during cementation workflow are crucial in the process of ensuring the retention, marginal seal and durability of that indirect restoration.
The daily challenge – How do you make an informed decision on what cement to use and how to use it to achieve the best clinical outcomes for you and your patients?
Join the 3M experts Dr Andrew See (General Dentist) and Dr Erwin Mecher (3M Global Scientific Affairs) as they discuss the pitfalls of everyday cementation and debunk the myths. The goal – to simplify your cementation workflow by applying basic, common sense guidelines to achieve predictable results.
In this session you will learn:
• Critically evaluate your tooth preparation(s), restorative material and cementation
procedure
• Choose the appropriate cement for your restoration
• Determine the pre-treatment protocol for your tooth preparation(s) and restoration(s)
• Apply the appropriate cementation procedural steps for clinical success